Mailing Address:
KGS America LLC
P.O. BOX 70966
SUNNYVALE, CA
94086-0966 U.S.A.

Telephone:
408-244-5831

Fax:
408-244-1831

e-mail:
sales@kgs-america.com


Also Available:

California
Law Enforcement
Tactical Unit Patches
Reference Guide
Volume One
2008 Edition
Includes: Police, Sheriff,
State agencies, task forces,
SWAT SRT K-9 unit, Air Support
.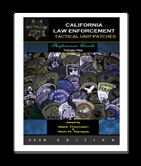 2005 LICENSE PLATE GUIDE
Current Standard Passenger Vehicle License Plates
for the United States and Canada

Just released! Order the New Premier Edition Now

» Over 220 photographic images of license plates featured
» Some optional graphic license plate designs also included



The 2005 License Plate Guide is a new publication from KGS America LLC.

The guide features actual photographic images of current standard passenger vehicle sample license plates of the United States of America and Canada.

Some of the optional graphic license plate designs from various jurisdictions as well as information on the 2005 Presidential Inaugural plates are also included in this edition.

Each of the photographic images in the guide measures approximately 1.5 inches by 0.75 inches (38 mm x 19 mm). The booklet itself measures 8.5 inches x 5.5 inches (216 mm x 140 mm).

This handy 16 page booklet comes in easy to use format and would be a great addition to any library as a reference material. ISBN: 0-9766236-1-7



Who Can Benefit From The Guide?

» Federal, State and Local Law Enforcement and Related Agencies

» Public Safety (Police, Fire & Security) Professionals

» Dispatch Centers

» Law Enforcement Training Institutions

» Motor Vehicle Administrators

» Patrons of Public Libraries for their reference

» Law Enforcement Product Suppliers and Retail Stores

» Public and Commercial Transportation Agencies

» Members of the Press: Newspaper, Radio and Television

» Large and Small businesses of all types

» Insurance Agencies and their Agents

» License Plate Enthusiasts and Collectors

» Teachers and students for a school project



Item Description

Shipping To:
Shopping Cart
2005 License Plate Guide; Single Copy @$9.95 each
8.25% sales tax will be added to order shipping to California
Shipping & handling cost is $1.95 total per shipment

U.S.A. or Canada
2005 License Plate Guide; Single Copy @$9.95 each
Shipping & handling cost is $3.95 total per shipment
Outside U.S.A. or Canada

Last Update: January 11, 2008




Copyright © 2005-2008 KGS America LLC. All rights reserved.